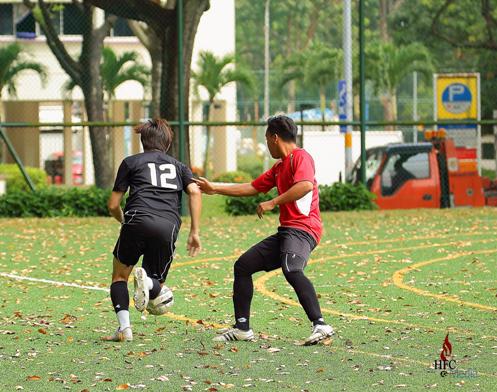 HFC Media File Picture

By Chua Yuxuan
Hilderinc Twās Football Club continued their good run of form with a nail biting 3-2 victory over Boundary Ville FC on Sunday in the SG Merlion Challenge Cup 2017.
Like previous games, the Blacks' habit of not stamping their mark on the game and taking control proved to be worrying and within the first ten minutes, and HTFC found themselves two goals down though very similar circumstances.
The very reliable backline of the Blacks could not deal with long punts up the field and the Ville's striker was put through on both occasions, slotting past the stranded JC to give Boundary Ville FC a 2 goals cushion.
But on a brighter note, those were the only two times Boundary Ville tested the Blacks' defence for the remaining of the match.
However, the Blacks pulled a goal back with Rahmat Saring halved the deficit from the spot after a melee in the box resulted in Basil Al Barr's shot willfully handled by a Boundary Ville player.
The Blacks went into the break drawing 2-2 after evergreen striker Sashikumar Mahathevan level the score through a well taken set piece from new boy Jorge Daniel (JD), sweeping the ball home from close range.
Pumped up HTFC pressed high and soon gain control of the match through the abundance of midfielders available.
The second half started with exactly like how the first half ended, with the Blacks pressing high and not allowing their opponents to play their game, hence restricting them to long balls, which were dealt with comfortably.
HTFC soon went ahead in the game, when a Rahmat Saring's corner was met by the head of Mathew Joseph, with the latter scoring what would be the winning goal.
The rest of the match continued without much fanfare, with neither team able to find the breakthrough.
However, it was an important win for the Blacks who showed good character coming from a goal down.
Final Score
Hilderinc Twā FC 3 : Boundary Ville FC 2
Goals: Rahmat Saring, Sashikumar Mahathevan, Mathew Joseph
MOM: Mathew Joseph
Starting Lineup
1. Liao Jincai "JC"
2. David Zheng
3. Michael De-Bear
4. Kavin Singh
5. Nor Azman
6. Darren Tan
7. Mathew Joseph
8. Jorge Daniel
9. Rahmat Saring
10. Basil Al-Barr
11. Sashi Kumar
Substitutes
12. Nicholas Ledenmark
13. Chua Yuxuan
14. Joe Kyaw
15. Mohamad Rahman
16. Fahmi Noor
17. Danial Shafiq