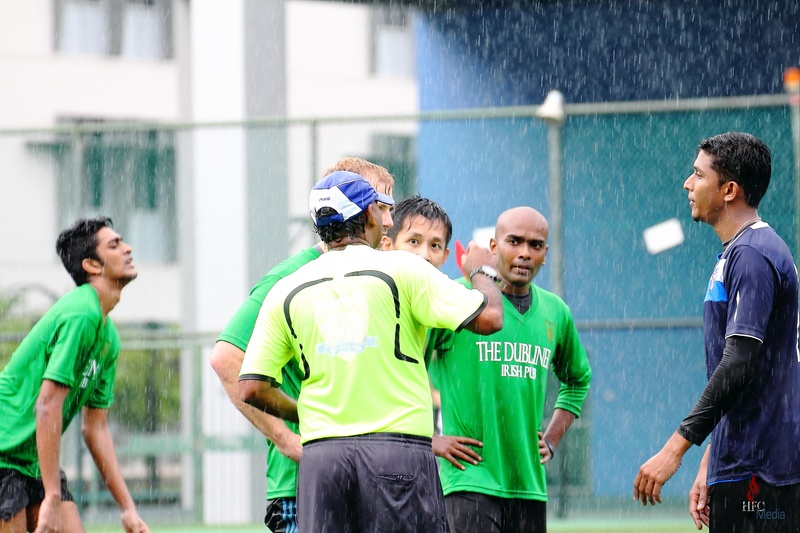 HFC Media File Picture
Against much held 18 year tradition of not playing a game during a long weekend, Hilderinc FC decided on a friendly game two days after their anniversary, especially with attention to gear up for next week's league fixture against Hiadis FC taking topmost consideration.
Notwithstanding the public holiday, the Blacks were in outstanding numbers as they welcomed several Hilderincs after a lengthy time-off, most notably, Diogo Bapastia and Gopal Peethambaran after months due to injury induced absence, Omar Mahnin and Basil Al Barr who returned from their Ramadan obligations, and Ryan Ng and Satoki Yoshida from their study and work commitments, while there were debuts for Kailndu Rathnayake and Shiv Tulsiani.
Taking on a familiar opponents, whom they have already met twice since March, winning both comprehensively, the Hilderincs' focus was more for regaining match fitness and fluidity in view of the introduction and reintroduction of no less than eight in presence.
With the weather again throwing a curveball, the Hilderincs, though were the better starters, the reconnection of several was evident as they laboured to get meaning results for their dominance.
Offering little to trouble the Blacks, it was then a shock to the system when Naranja took an unexpected lead, punishing them through a counter-attack against the run of play, and needed the alertness of Gopal Peethambaran in goal to keep further speculative attempts from hurting them further.
Undone, Ryan Ng, who was a bright spark throughout, was key to everything good that the Hilderincs produced, and did excellently to lay a ball across the face of goal, but with goal at his mercy, Ian Morris messed his chance from a yard out to get the Blacks level, leaving them trailing 1-0 into the break.
The restart saw the Hilderincs ringing in a slew of changes with a brand new midfield pack as Mathew Joseph, Guihereme Imai and Satoki Yoshida played pivot to the second half objectives, as Sunny Tharidu, Basil Al Barr and Shiv Tulsiani were tasked to make a difference.
With the changes, there was a mark improvement to the Blacks' approach as they laid siege on the Naranja half, as Satoki proving a revelation in his new role in the middle of the park.
Cranking the gears with their passing and movement, the Blacks looked the most likely to score and came within a whisker on a couple of occasions, though the opponents were forced to sit and try to hurt the Hilderincs on the break as they did in the first half.
While the game was played in good competitive nature, as with all previous meetings, an eternal irritant in the Naranja side was at his classless third-rate behaviour with his off the ball antics, drawing highest annoyance from Ian Morris, who reaching his limit after avoiding a mindless throw of an elbow to his face, reacted with "controlled" but uncharacteristic shove, earning him his first ever red card, but though poetic justice was served when the recalcitrant reprobate was himself sent-off, a more proficient referee would have dealt with the degenerate well before the incident.
However, as it was a friendly, both sides were allowed to keep the numbers and the dismissed players were replaced instead.
The flashpoint sparked renewed rigour within the Hilderinc ranks and they poured forward with increased interest.
Satoki Yoshida, who was revelling on his return, almost scored a sensational goal when he struck a prefect shot from distance, but credit to the Naranja goalkeeper, he pulled off an equally brilliant save to deny the Japanese a goal of the season contender.
The Blacks were finally rewarded for their persistence when debutant Shiv Tulsiani combined well with his new teammates to equalise close to the end.
Though it was not reflective of the Hilderincs' overall performance, and the fact that they rarely win a game immediately following their anniversary, it was a productive outing, as match fitness and cohesion are the ultimate objectives for friendlies in the scheme of this ESPZEN Saturday League season.
Final Score
Naranja AFC 1 : Hilderinc FC 1
Goal: Shiv Tulsiani
Red Card: Ian Morris
Starting Lineup
1. Gopal Peethambaran
2. Glenn Sandu
3. Nicholas Ledenmark
4. Dionisis Kolokotsas
5. Kailndu Rathnayake
6. Jon Loh
7. Diogo Bapatisa
8. Kumaresan Maniam
9. Omar Mahnin
10. Ian Morris
11. Ryan Ng
Substitutes
12. Sunny Tharidu
13. Mathew Joseph
14. Nabil Zahrif
15. Satoki Yoshida
16. Guihereme Imai
17. Basil Al Barr
18. Shiv Tulsiani
Hilderinc Football Club is proudly sponsored by