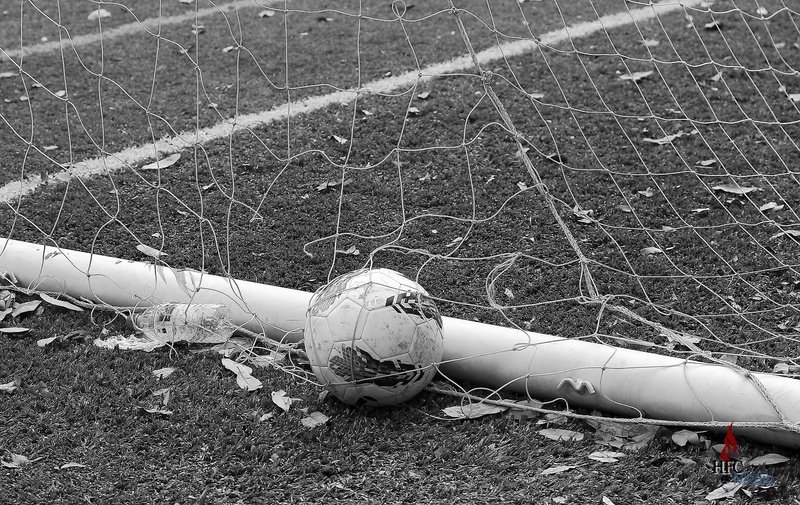 HFC Media File Picture
If the past three defeats in the league could have been contributed to controversial or unmerited circumstances, Hilderinc FC had none of that sort of excuses to hide behind when they paid the price for one of their worst performances this season.
Despite quality in strength, the Blacks were found sluggish and listless by a more hungry ORD FC side which fully benefitted from their profligacy.
While both teams started evenly, prodding a way through, the Hilderincs could count themselves unfortunate to be a goal down inside eight minutes when despite the best efforts Sunny Tharidu in keeping out a long range shot, the Blacks' defender turned keeper was beaten by the follow up attempt which took an inadvertently deflection on its way.
Uncharacteristically, the Hilderincs responded with patchy and hurried intent, an odd departure from their usual poise.
Preplanned mid-half changes did have an upturn effect, but it not totally eradicate the lack of composure, as the Blacks huffed and puffed to make any meaningful headway, despite being successful in neutralising the Pelicans' attacks.
Nevertheless, the Hilderincs finally broke through four minutes from the break when Mitchell Keh's persistence allowed Adib Alias to equaliser with a delightfully picked shot, which left the ORD keeper without a prayer, to bring themselves level into the recess.
Having clawed back right at the end, the Blacks' hope of a contest took a smack right in face mere minutes into the restart when the Pelicans were the beneficiaries of a cruel slippage in front of goal, which was bundled over the line with sheer purpose, something the Hilderincs lacked whole afternoon.
In spite of that, there was an immediate response from the Hilderincs, and they were inches from an instant leveler when Adib Alias clipped the top of the angle of the woodwork after impressive work by Noorfarhan to create the opportunity.
The game then descended into show devoid in any notable quality as both team scrimmaged for the next goal, which would most certainly impact the proceedings, though ORD FC were highly unfortunate to have the full complement of players, after the referee took a highly lenient approach to immature petulance shown by one of their own who should have walked after a reprehensible tackle on Goh Heng Kiat after having received a caution for persistent fouling only moments earlier.
But it was the Blacks who were punished for their inattentiveness as they allowed ORD FC to steal the third goal against the run of play.
Belatedly, it aroused the Hilderincs and they threw everything they had at the Pelicans in bid to stage a comeback, one would have been a remarkable one had they pulled it off.
Coming mighty close with efforts from Mitchell Keh and Marko Belak, the Blacks finally ran out of time and fell to their fourth defeat of the season, leaving a campaign that has taken a huge knock with just three game left for them to salvage it.
Final Score
Hilderinc FC 1 : ORD FC 3
Goal: Adib Alias
MOM: Diogo Baptista
Yellow Card: Denis Lobov
Staring Lineup
1. Sunny Tharidu
2. Goh Heng Kiat
3. Denis Lobov
4. Dionisis Kolokotsas
5. Mike De-Bear
6. Adib Alias
7. Diogo Baptista
8. Mitchell Keh
9. Oleg Ponomarev
10. Ian Morris
11. Marko Belak
Substitute
12. Lim Yong Kiat
13. Nicholas Ledenmark
14. Jon Loh
15. Glenn Sandhu
16. Muhammad Noorfarhan
• ESPZEN Saturday League 18 Division 3
• HFC ESPZEN League 18 Season Player Stats
Hilderinc Football Club is proudly sponsored by