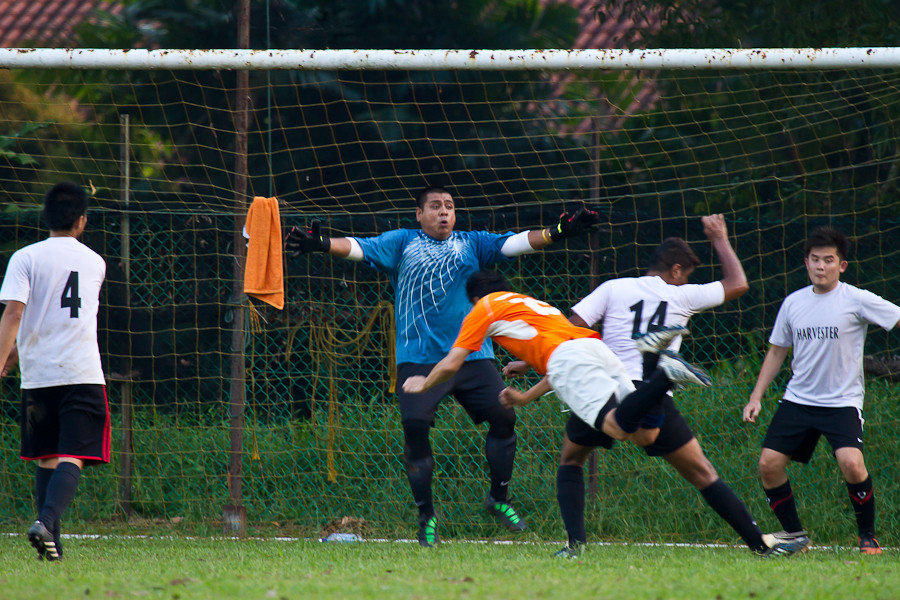 HFC Media File Picture
By  Logaraj  Sundram
Hilderinc Twā FC had to readjust their planned programme of a league fixture to accommodate a friendly game against Kaki Injured FC at Yusof Ishak Secondary School last Sunday.
The Twās started the game with a rather new set up with Old Guard, Bobos, returning to play his first game for Hilderinc after 6 years, while playing with a back three of Kavin Singh, Nicholas Ledenmark and Darren Tan, the Blacks had Mike De Bear and Syed Nafis deployed as wingbacks. Kumeresan Maniam and Mathew Joseph started in midfield while Omar Mahnin, Sashikumar Mahathevan and Logaraj Sundram led the attack.
In spite of a firm backline, Kaki Injured broke through with a fine tap in for the first goal of the game. The second came soon after in similar fashion which forced the Blacks to convert to their usual 4-4-2.
Within seconds, the Blacks pulled one back. A long ball from defender Nicholas was nod down by Sashikumar for Logaraj who was one on one with the keeper to equalise but two defensive mistakes had the Blacks three goals behind by half time.
With the torturous heat dampening the spirits, changes were made as Fahmi Noor, David Zheng, Joe Kyaw, Arkar Myint, Liao Jincai "JC" and Dennis Lum were brought on.
The Blacks were much more assured and disciplined at the back up until another goal was scored.
The Hilderincs kept the pressure on as Omar Mahnin, Sashikumar and Logaraj all came close to scoring.
Finally a consolation goal arrived late via Joe Kyaw when Kumaresan Maniam sent Logaraj through on goal, and having sprint from midfield, Joe finished off the pass from Logaraj for his first ever goal the Hilderincs.
With the Twās returning to league action this Sunday and there are certainly no places for errors.
Final Score
Kaki Injured FC 5 : Hilderinc Twā FC 2
Goals: Logaraj Sundram, Joe Kyaw
Starting Lineup
1. Bobos
2. Mike De Barr
3. Kavin Singh
4. Nicholas Ledenmark
5. Darren Tan
6. Syed Nafis
7. Kumaresan Manian
8. Mathew Joseph
9. Logaraj Sundram
10. Omar Mahnin
11. Sashikumar Mahathevan
Substitutes
12. Liao Jincai "JC"
13. Fahmi Noor
14. David Zheng
15. Arkar Myint
16. Dennis Lum