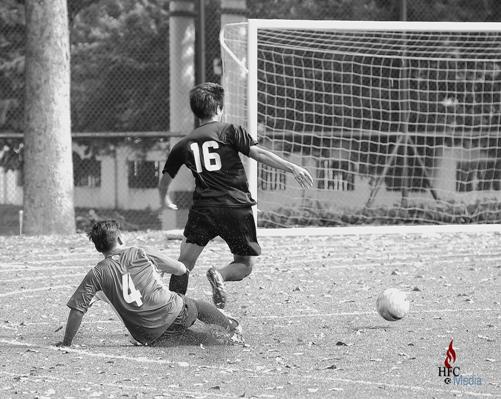 HFC Media File Picture

After eleven months, eight of which in a long drawn league season and a three month pre-season preparation prior, Hilderinc Football Club were more than relieved to end their debut in the ESPZEN Saturday League.
Nothing short of a Hitchcock worthy roller-coaster ride, the Blacks' transition from Sunday league football has been anything but vexing and flustering, though the double verb expression only pales in comparison to actual ground sentiments as the Hilderincs concluded their worst ever competitive display in their seventeen year history as the finished second from bottom in the ESPZEN Saturday League 17 Division 2 table, facing their first ever relegation as a result.
Having used an incredible ninety-six players over the course of thirty-three league and friendly games, both Club records by a mile, the final fixture against Sons of Pitches FC was one more of an exhausted plea for a quick release from weariness, though the lingering Hilderinc ego clung to hopes of a positive end to a schizophrenic year.
As it was been for much of the campaign, despite starting the better footballing side, the Blacks found themselves behind to two quick goals as they were severely exposed by the opponents' route one policy, which worked well for them with a striker eager to take his chances in a small pitch.
Gaining no favours from a suspect referee, who moments earlier allowed an offside goal to stand, chalked off a genuine effort by the Hilderincs, leaving them to trail into the break.
The restarted played out in similar fashion to the first as the Sons were content to sit deep and deny the Blacks space inside a tight final third, while launching hopefully ball at the other end.
When the argument is against you, even a wind would blow the ball into the net, and the Hilderincs found that to be true after all the hard work at the Sons' end, another long punt dealt the deathblow as the third goal knocked the Blacks' resolve, whatever focus that was demanded was lost towards the end to give a harshly cruel outlook to the final result.
However, in all the gloom of a thankless season, the Blacks' unearthing of some highly capable youngsters and the unrivaled commitment of some good number of the old hats who carried the team through the difficult times has been an inspiration, and whatever happens from here on, the Hilderincs defiantly set their eyes on the new season.
Final Score
Hilderinc FC 0 : Sons of Pitches FC 5
MOM: Xander Hoskinson
Staring Lineup
1. Simon Khaw
2. Anmol Shubg
3. Denis Lobov
4. Nicholas Ledenmark
5. Alistair Hoskinson
6. Jon Loh
7. Xander Hoskinson
8. Hoonki Song
9. James Lai
10. Ian Morris
11. Glenn Sandhu
Substitutes
12. Lim Yong Kiat
13. Logaraj Sundram
14. Nejat Mena
15. Michael Shankar
16. Basil Al Barr
• ESPZEN Saturday League 17 Division 2
• HFC ESPZEN League 17 Season Player Stats
Hilderinc Football Club is proudly sponsored by