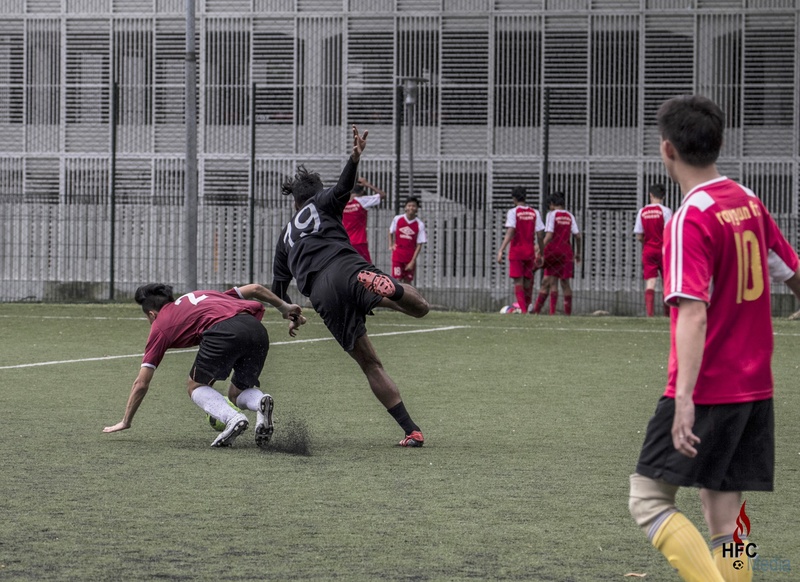 HFC Media File Picture

It was a return to Jekyll and Hyde performance from the Hilderincs who failed to build on last week's inspirations when they fell meekly to That Team for the second time in the season, and with their second red card in the last three games.
Frustratingly inconsistence has been their nuisance this season, brilliant when they turn up and wretched when they failed to matchup to their own potential, more often than ever tripping up on their own laces.
So often this campaign, "What Ifs" dominated the narrative when several keys moments came back to haunt the ten-man Blacks at the final whistle.
What if Gabir Nabil's forty-fifth second shot had gone in instead of been turned onto the crossbar by That Team's stand-in keeper; what if the Blacks had taken advantage to test the same a little more than they actually did; what if the Hilderincs had shown more resolve and aggression in their play; what if attentiveness and tidiness were maintained instead of carelessly than allowed easy goals to be conceded; what if the referee has been more sensible with his otherwise curious "from the centre circle" decisions; what if composure was shown when the goal was at the mercy when the goalkeeper went jolly-venturing; what if Alex Wong had reined in his tackles after been on a yellow card and with the referee having warned several times before he was dismissed; what if Gopal Peethambaran stayed in his goal instead of heading up for a corner with more than six minutes left on the clock; what if the Ian Morris' tactical gamble did not backfire miserably.
While the Blacks showed enough to come back on level terms twice before the break through an Adib Alias delight and a Denis Lobov header, critical errors in the second half, especially in the final fifteen minutes, aided by the sending off, they simply capitulated under their own weight, conceding twice unnecessarily in three minutes, killing any resolve.
With games running out, the Hilderincs have no room for petulance if they were to save their season, and with equally tough games at hand, it will take extra onus from them to do so.
Final Score
That Team 5 : Hilderinc FC 2
Goals Adib Alias, Denis Lobov
MOM: Adib Alias
Yellow Cards: Basil Al Barr, Alex Wong (2)
Red Card: Alex Wong
Starting Line Up
1. Parthiban Aruchamy
2. Michael Shankar
3. Denis Lobov
4. Darren Ang
5. Alex Wong
6. Rama Witjaksono
7. Adib Alias
8. Rahmat Saring
9. Gabir Nabil
10. Ian Morris
11. Satoki Yoshida
Substitutions
12. Liao Jincai
13. Mathew Joseph
14. Kavin Singh
15. Omar Mahnin
16. Chua Yuxuan
17. Basil Al Barr
18. Gopal Peethambaran
19. Sunny Tharidu
• ESPZEN Sunday League 24 Division 4
• HFC ESPZEN League 24 Season Player Stats