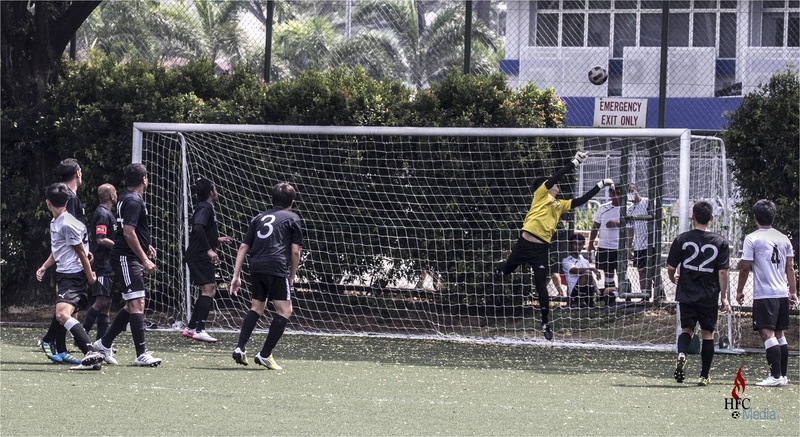 HFC Media File Picture

Hilderinc Football Club's anomalous season took a turn for the worst when they were left rooted third from bottom after suffering yet another exasperating defeat against their perennial rivals Singapore Panthers FC, going from promotion hopefuls to candidates for the drop in a space of just one week.
Always enjoying a quality contest with reciprocal respect for each other, both teams could not hide the perplexing term they have endured, as they were ironically involved in a potential relegation scrap after being at each other for the league title just months earlier in the previous campaign.
Having never served a dull moment when they usually meet, the tie lived up to all expectations as both the Hilderincs and Panthers were quick off the blocks in tandem, though it was the Blacks were tested the former's resolve with early pressure and could have taken the lead in the opening seconds of the game.
An evenly poised game in a slick pitch was needlessly disrupted after the Hilderincs gave away an unnecessarily naive penalty, which the Panthers put away without a second opinion for the lead.
With taking the lead never a guarantee for anything a hallmark in this fixture, the Blacks were immediate in their response, as Gabir Nabil came inches from levelling the score after a good interplay with debutant, Guilherme Imai, while Sashikumar Mahathevan whizzed his shot past the face of the goal, before coming short again with a header in front of goal.
For all the work inside the Panthers' half, the Blacks finally found their way back into the game when Gabir Nabil found the back of the net with an exquisite finish, following good flowing move from Rama Witjaksono, Sashikumar Mahathevan and Ian Morris.
Just as the Hilderincs were edging the encounter, poor discussion making left them trailing once again and much against the run of play and going into the break.
The second half was as with the first, had the Blacks pressing hard, keeping the Panthers inside their own half for extended period, and Gabir Nabil, yet again coming close with a freekick which hit the crossbar, denying the Hilderincs another equaliser.
On the front foot and thinking that they had escaped another Panthers goal after Maxence de Poulpiquet's goalline clearance a corner, it all well horribly wrong for the Hilderincs as they were punished with a quick counter-attack and a late penalty, both avoidable, consigning them to another undeserved defeat, a luckless recurring theme this season, most alarmingly, leaving them on the brink of a possible drop.
Final Score
Singapore Panthers FC 4 : Hilderinc FC 1
Goal: Gabir Nabil
MOM: Rama Witjaksono
Yellow Card: Logaraj Sundram
Starting Line Up
1. Leon Lee
2. Alex Wong
3. Denis Lobov
4. Michael Shankar
5. Basil Al Barr
6. Sunny Tharidu
7. Rama Witjaksono
8. Guilherme Amadei Imai
9. Sashikumar Mahathevan
10. Gabir Nabil
11. Ian Morris
Substitutions
12. Lim Yong Kiat
13. Maxence De Poulpiquet
14. Logaraj Sundram
15. Peter Wang
16. Kumaresan Maniam
17. Chua Yuxuan
18. Bayu Tanmizi
• ESPZEN Sunday League 23 Division 4