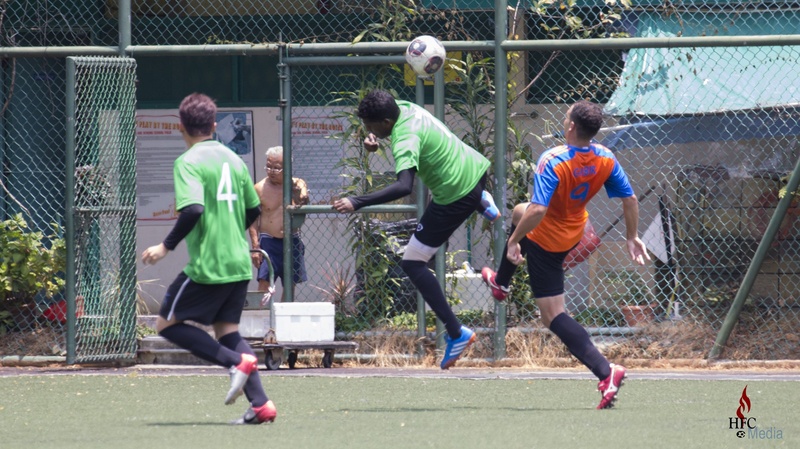 HFC Media File Picture

Hilderinc FC's current bout of schizophrenia continued as they produced vastly contrasting display in either half of the ESPZEN Sunday League 23 Division 4 clash against Central Park FC on their return to league action.
Playing their first game away from their adopted ground, HYFA; their home for the last eight months, the Blacks returned to First Toa Payoh Secondary School, the venue of many classic encounters with a squad strength that would make any team envious.
Inversely, the impressive numbers only went as far as to hide the travails which has beset the team which looks far from convincing in many quarters since their promotion last season.
The effects of last week's haze inflicted postponement was evident as the Blacks progressed tentatively in the opening minutes of the game, with the forced rest clearing disrupting their previously gained momentum.
However, the sheepish start gave way to dominance as they kept the Sharks pin in their own half for long periods, though their prodding only produced opportunities that were speculative at best.
As with the first game between these two teams, a defensive lapse against the run of play gave Central Park FC a soft lead, in what was their first real attack of the game, though the Blacks had keeper Gopal Peethambaran to thank moments later when he pulled off an acrobatic save.
Even with a goal down, the Blacks continued with their attacks, coming inches from the equaliser just before the break when Logaraj Sundram's shot bounced off the post, with the Sharks' keeper well beaten, and that was the closest the Hilderincs got for the rest of the game.
The second half was forgettable as both teams were locked in a patchy affair, with each living off the scraps that came their way without any real intent.
More so were the Hilderincs, who looked a different outfit together in the restart.
Disjointed, listless and sorely lacking in any ideas to carry any threat to the Central Park backline, whom they had harassed relentlessly in the first half.
The absence of any noteworthy pressure from the Hilderincs only invited the opposite from the Sharks, who took advantage of the Blacks' irrelevance.
And for the second time in the game, another lapse and the Hilderincs were punished, and going two goals down, and looking very unlikely to launch any creditable comeback in the circumstances they let themselves to be in, they faded meekly for their third defeat in five games.
Despite propping the table, the Hilderincs refuse to press the panic button, as they remain confident that they will turn the corner soon as they focus on adding quality to the current quantity.
Final Score
Central Park FC 2 : Hilderinc FC 0
MOM: Denis Lobov
Starting Line Up
1. Gopal Peethambaran
2. Azman Azmi
3. Denis Lobov
4. Nicholas Ledenmark
5. Alex Wong
6. Sunny Tharidu
7. Rama Witjaksono
8. Bayu Tanmizi
9. Sashikumar Mahathevan
10. Ian Morris
11. Vijay Ramadoss
Substitutions
12. Dan Koh
13. Logaraj Sundram
14. Basil Al-Barr
15. Shadiq Al Hussain
16. Chua Yuxuan
17. David Zheng
18. Parthiban Aruchamy
19. Sai Ganesh
20. Leslie Eng
21. Mitchell Keh
22. Mohammad Hissham
23. Kumaresan Maniam
• ESPZEN Sunday League 23 Division 4