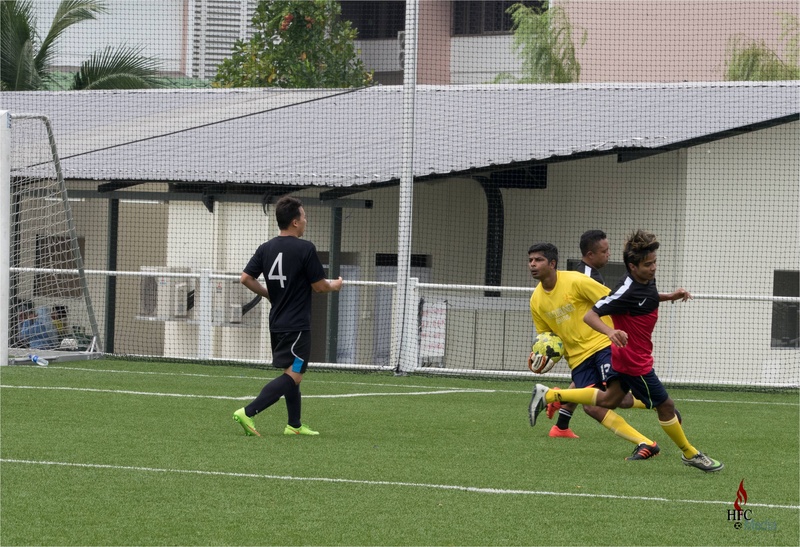 HFC Media File Picture

The ESPZEN FA Cup came to an unassertive end for Hilderinc Football Club when they suffered their worst outing in their ESPZEN tenure, no thanks in part to being utterly malnourished against First Division Purple Monkeys FC in the Round of 16 tie.
Positive results have always been in tandem with healthy numbers, and for what was already a substantial challenge, the task was turned herculean by mass unavailability, including a quartlet of late withdrawals.
Total deprivation was only avoided by the external comfort from guest player, Viet Pham and the eleventh hour benevolence by Parthiban Aruchamy.
So dire the concerns that a patchwork skeletal side was pitched against an outfit brimming with abundant resources, worthy to make any superpower state envious.
With almost everyone apart from Gopal Peethambaran, Mohd Hissham, Basil Al Barr and Bayu Tanmizi, playing in their natural position, the Hilderincs looked more like a scrawny scarecrow against a cannon.
Despite their obvious lack, the brave Blacks started the game in their usual panache, knocking the ball around, trying to keep with the Hilderinc tradition.
However, it did not take very long for them to be found out under circumstances; when under pressure from the Monkeys, the Hilderincs went on a sequence of no less than six unforced errors, which directly or indirectly led to them concede as many goals.
The heroic of Gopal Peethambaran in goal and some languid finishing by the Monkeys was all that stood between the Hilderincs and further inundation.
The second half was a mark improvement from the Hilderincs, who perhaps benefited from the Monkeys taking their foot off the pedals.
While attempts on goal non-existent in the first period, the Blacks did enough to trouble the Monkeys after the restart, though anything substantial was far and few in between.
The Hilderincs did pull a goal back after a good interplay between Vijay Ramadoss and Ian Morris, resulted in the former being brought down in the box for a penalty.
Though sending the keeper the wrong way, Ian Morris' spot kick would crash against the crossbar, but the skipper was quick to react to the rebound, finding the back of the net with a header under pressure for what would nothing more than a consolation goal.
The Monkeys would go on and add three more goals before the final whistle, but the outcome might have flattered them somewhat, considering they had took on a team in severe deficiency.
Defiant in defeat, the Hilderincs, while plotting for a return match against the Purple Monkeys on a level playing ground, will now turn their attentions to league affairs in Division 4 and on rivals Singapore Panthers FC, whom they next face in two weeks' time.
Final Score
Hilderinc FC 1 : Purple Monkeys FC 9
Goal: Ian Morris (Pen)
MOM: Gopal Peethambaran
Starting Line Up
1. Gopal Peethambaran
2. David Zheng
3. Azman Azmi
4. Alex Wong
5. Basil Al Barr
6. Chua Yuxuan
7. Bayu Tanmizi
8. Mohd Hissham
9. Sashikumar Mahathevan
10. Ian Morris
11. Vijay Ramadoss
Substitutions
12. Nicholas Ledenmark
13. Parthiban Aruchamy
14. Viet Pham