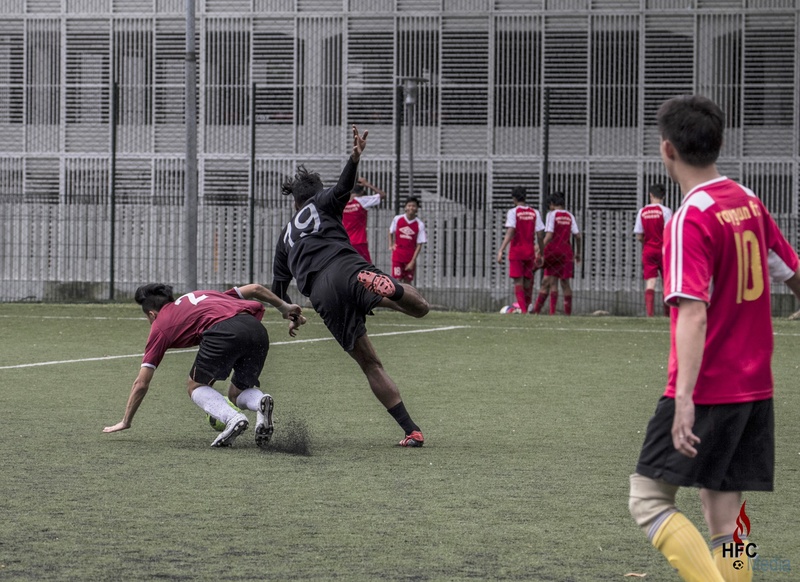 HFC Media File Picture

It has been nothing short of a dreadful April for the Hilderincs who were yet again undone in a closely fought game against perennial adversaries, Playground Rivals, in the ESPZEN Saturday League Division 2 fixture.
Having lost all of their last four league games, the Blacks stand perplexed with the results which has certainly not match their performances on the pitch, especially when they had led by a two goal margin in first two of the foursome of losses.
Un-indicative of their unpleasant results of late, it was a buoyant start from the Blacks against an opponent who were seeking to do a double over them after they won the reverse fixture with three goals in the final 15 minutes.
With Erdogan Albay carrying on with where he left off last week, his mischief with his footwork had the Rivals rightfully worried as they increased the foul count steadily.
However it was a foul in the Hilderincs' own penalty area that cost the heavier price as the Blacks went a goal behind against the run of play, resultant of a spotkick awarded for an unfortunate infringement.
But the Hilderincs response was swift and they pulled level through Mike Rooke from a corner.
Having drawn level, the Blacks upper the tempo and positioned themselves in the Rivals final third with their incessant pressure and should have taken the lead but with the keeper well beaten, Rama Witjaksono's shot bounced off the crossbar, another recurrent outlandish theme this season, with the woodwork denying the Hilderincs in key moments in matches in every of their defeats so far, especially the recent four.
The second half was all about missed chances by both sides, but the Blacks had departing, Axel Blomgren, who was playing his final game for the Hilderincs before concluding his short stay in Singapore, to thank yet again for his exceptional goalkeeping as he kept them in the game.
With neither side gaining the upper hand in a tight encounter, the deadlock was broken by yet another set-piece, a freekick this time which even the incomparable Blomgren was unable to find a reply.
The final quarter of the game was all about the Hilderincs throwing everything for another leveller but had themselves liable for not making the most of the chances that came their way, including a couple of glaring misses.
Though the Blacks will be happy to see the back of a truly trying and vexing month, it will be a test of character from hereon as they seek to return to form and salvage their season.
Final Score
Playground Rivals FC 2 : Hilderinc FC 1
Goal: Mike Rooke
MOM: Axel Blomgren
Starting Line Up
1. Axel Blomgren
2. Nicholas Ledenmark
3. Denis Lobov
4. Sunny Tharidu
5. Michael De Bear
6. Sam Thorley
7. Rama Witjaksono
8. Erdogan Albay
9. Sashikumar Mahathevan
10. Ian Morris
11. Mike Rooke
Substitutions
12. Omar Mahnin
13. Jon Loh
14. Alberto Bartoli
15. Iain Kennedy
• ESPZEN Saturday League 17 Division 2
• HFC ESPZEN League 17 Season Player Stats
Hilderinc Football Club proudly sponsored by